ONE JOURNEY FESTIVAL
June 29, 2019
11 am – 6 pm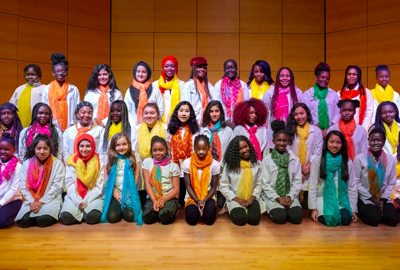 Pihcintu Multicultural Chorus
Welcoming refugee and immigrant children from around the globe, The Pihcintu Multicultural Chorus helps restart young lives. War-torn villages, bloodshed, refugee camps, famine, and political turmoil were devastating realities for many of these young singers before being embraced by the warmth, companionship and harmony that Pihcintu provides.
Abraham Mwinda is a Congolese born, Kenyan raised singer, songwriter and rapper from Lexington, KY, United States.
Abraham began writing songs at the age of seven and performing them publicly at 15. Writing and singing were ways he could express his thoughts more easily, which gave him the motivation to continue developing this passion.
Jorge Glem and Cesar Orozco
In-demand artists, César Orozco (piano) and Joge Glem (Venezuelan cuatro) will perform as a duo at this year's festival, combining Latin folk, pop, and jazz sounds. Glem has been described as the greatest living master of the infectiously rhythmic fourstring Venezuelan cuatro. The New York Music Daily said of a recent show, "Glem's performance at Lincoln Center, reaffirmed his status as one of the most individualistically talented players in any style of music around the world". With respect to Orzco, according to Cuban legendary saxophonist and clarinetist Paquito D'Rivera, "[He] manages to make the best combination between Cuban, Jazz and Venezuelan music I ever heard".
Batalá Washington is an all-women Afro-Brazilian band that plays Samba-Reggae rhythms. Batalá Washington's mission is to empower women through drumming and expose people to Brazil's dynamic Afro­ Bahian culture and Samba ­Reggae music.
The Tributary Project celebrates the connections formed from through music, adding textures and flows from around the earth.
Featuring Jaja (vox), Joseck (percussion), Meera (flute), and Rob (guitar) – along with special guests – the band evokes sounds, rhythms, and voices from its diverse origins, including the Congo, Kenya, Mali, India, and the island of Brooklyn.
Frontman Stephane Detchou for local funk and soul band, AZTEC SUN, brings TS'Ɛ to the One Journey Festival stage. It's a musical project that draws on influences from his West African and North American background, and blends storytelling, neo-soul vocals and ambient rhythm guitar to produce an electric afro soul sound.
From the Carnegie Hall to refugee camps in the middle east, Brooklyn based Japanese violinist and composer, Megumi Saruhashi has delivered her music to people of all circumstances around the globe.
Megumi's music is ignited by a wide range of influences, including arabic music, jazz, classical, tango, gospel, minimalism and many more and she has studied extensively for various traditions with the masters for jazz, western classical, argentinian tango and arabic music.
Cheick Hamala Diabate Griot Street
Cheick Hamala Diabate is a musician from Mali, West Africa who has been nominated for a Grammyaward. Using Adelphi, Maryland as his home he travels all over the United States, Canada, Europe, and Asia. He has performed at the Kennedy Center, the United States Senate, and the Smithsonian Institution. Cheick Hamala was born into a griot family in Kita, Mali. From a young age he learned to play the ngoni, a stringed instrument related to the American banjo. In addition, Cheick has learned the history of Mali passed down for over 800 years. Cheick has performed internationally.
Kumera Zekaris is a multilingual singer-songwriter, producer, and the band leader of Kino Musica, a five-piece band based in DC. Originally from Austin, Texas, Kumera's diverse and reflective music is rooted in the soulful expression of blues and the bilingual traditions of the Southwest. Kumera started Kino Musica in 2014 to explore his own East African musical heritage. Recently he has conducted ethnomusicological research to better understand the relationship between the music of the Horn of Africa, the Sahel, and Afro-Colombian music from the Pacific Coast.
Leila Mire began dancing at Dancer's Studio in Knoxville, TN as a required measure for her diagnosed disability. What began as a mandated activity eventually became her vocation. At the age of twelve, she auditioned and was accepted into the Tennessee Children's Dance Ensemble under the direction of Irena Linn. She trained in ballet, modern, jazz, dance history, kung fu, tai chi, and many different cultural forms. She had the privilege of performing works by notable choreographers like Randy Duncan, Michael Mao, Rejina Klenjoski, and Claire Bataille.
Sokeo was born in a Cambodian refugee camp in Thailand, arriving in the United States at the age of three. As a sophomore in high school, he began performing with the Carriage House Performers, a Providence-based hip-hop group. In 1998, Sokeo joined Everett as a creator and performer and has taught many master classes in universities throughout his touring experience. He has been in three touring pieces and is currently working on the fourth piece with Everett called "Freedom Project".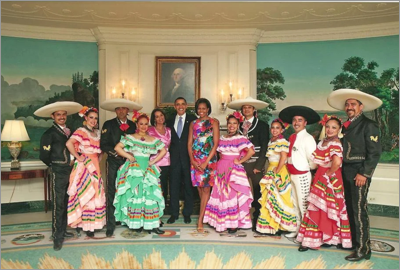 The Maru Montero Dance Company, founded by former Ballet Folklorico de Mexico lead dancer Maru Montero in 1992, is a non-profit 501(c)3 corporation dedicated to promoting the joy and beauty of Latin culture in the United States. From humble beginnings in church basements and school gymnasiums, the Company has grown into the premier Latin dance company in the Washington, D.C. area. Although its roots are in Mexican folk dance, the company also performs modern Latin dance, including mambo, cha cha, and salsa as well as dances from many other Latin American and the Caribbean countries.
Hussein Smko is a 25-year old Iraqi of Arab/Kurdish roots. A self-trained dancer/choreographer whose talent was spotted by Battery Dance over social media in the summer of 2014, he was subsequently trained via Skype from his home in Iraq connected with Battery Dance practitioners in their studios in New York City. He managed to get to the U.S. in early 2016 and was granted Permanent Resident Status. He began his residency with Battery Dance as the first recipient of the Adel Euro Campaign for Dancers Seeking Refuge in January of 2017.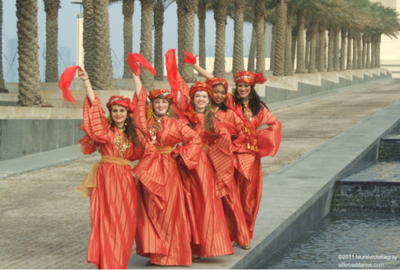 Founded in 1995 by Artistic Director Dr. Laurel Victoria Gray, World Dance professor at George Washington University, the award-winning, critically acclaimed Silk Road Dance Company (SRDC) presents an extensive repertoire of more than 200 dances from Central Asia, Iran, the Middle East, South Asia, the Caucasus and beyond. Silk Road Dance Company has performed internationally in Uzbekistan, Qatar, Singapore, United Kingdom and Canada. Based in Washington, DC, the ensemble has graced prestigious venues across the country including two White House performances and 11 Kennedy Center appearances.
MENDÉ is a Puerto Rican musical group featuring the bomba and plena - folk music rich in content, flavor, and power that inspires dance and movement. The band features musicians and singers from across the island, as well as Turkey and Mexico. MENDÉ has collaborated with the National Association of Latino Arts and Culture, Telemundo 44, and many others around the region.
Joseck Asikoye was born and raised in Kenya, where he was a founding member of Kenya's most toured band, Jabali Afrika. His career in the arts, however, began as a member of the Kenya National Theater Dance Troupe and Nairobi Dancers, where he worked as a dancer, choreographer, actor, and musician. He currently resides in the DC area and is a mainstay in the local creative scene, where he is part of numerous musical collaboration projects and dance initiatives.
Nakima Smith, is a native of Barbados, performing artist, dancer, instructor, and budding vocalist, in the metropolitan area. Her Caribbean roots lead her to a deep passion and appreciation for dance of the African diaspora, specifically, the fusion of African, Caribbean, and house dance styles. As an independent artist, in the field of African dance, Nakima has performed for and with such artists as Common, Malian griot, Cheik Hamala Diabate, Janka Nabay, and the Bele Bele Rhythm Collective, an all-women's drumming group.
Many One Journey artists will be sharing their stories of inspiration and refugee connections throughout the day on the Storytelling stage. The program line up will also include the following performances and speakers.
Actor - Actor Jay Abdo was a huge star in the Middle East, with movie and TV roles that made him a household name. He couldn't walk down the street in Damascus without attracting a crowd. So maybe it's not entirely surprising that now he's making movies with Tom Hanks and Nicole Kidman. What is shocking is that, like hundreds of thousands of Syrians trying to flee the oppression of President Bashar al Assad and the terror of Isis, he's a refugee.
Artist Fadia Afashe studied art at the Ismail Institute of Art and has several national and international exhibitions. While immersing herself in the world of art, Afashe also pursued a degree in criminal law. Then she got her master's degree from the Syrian-French National Institute of Administration (l'ena). Afashe used her degrees and artistic skills to engage in causes advocating women's rights. At the rise of the Arab Spring, Afashe left Damascus for the United States to pursue a fellowship at the Humphrey School for Public Affairs, which she completed in May 2012. Fadia's art became part of her activism to advocate for human rights. She is a member of the Los Angeles Art Association.
One Journey leaders Feras and Suehaila Nabulsi share fun and nostalgic memories centered around Syrian food tradition. Their journeys - as a native Syrian who immigrates to the United States and as an American-Syrian raised with strong Syrian traditions - merge when they fall in love. Join us for a sample tasting of their stories where marriage unites much more than just these two, but also connects the old world to new. The stories shared in this segment will reflect on the importance of carrying and evolving food traditions and family gatherings - and how these provide essential sustenance and nourishment beyond physical needs.
UNHCR Goodwill Ambassador - Mahmoud continuously advocates for the cause of refugees and disadvantaged communities the world over through her poetry, and incredible experience.
In 2017, she hosted the first fully inclusive civilian peace talks across Sudan as part of her One Girl Walk and Dreams for Peace Initiative. In 2018, she completed an unprecedented 1000km (620mile) walk in 30 days from Darfur to Khartoum, mobilizing thousands of people along the way.
Lual Mayen is a South Sudanese game developer and founder of Junub games, a gaming company dedicated to creating games that bring social change in the community. Forced to flee his country, Lual taught himself how to use computer in a refugee camp and later developed his first peace building video game. Lual is a visiting scholar at American University Game Lab, has received Facebook Gaming's "Global Gaming Citizen" award, and is a Forbes 30 under 30 scholar.
Mustafa Nuur is a Somali former refugee, an advocate, and the founder of Bridge, a social enterprise platform that lets people book cross-cultural experiences with refugees from around the world locally. After winning Lancaster's Great Social Enterprise Pitch with his Idea to connect the community, Bridge has organized more than two thousand cross-cultural conversations and dinners between the refugee community and their neighbors.
Salma is a writer, storyteller, blogger, and non-profit leader. Her passion is to share people's stories as a way to help build bridges, promote understanding, and inspire and motivate action. She has her own storytelling consulting practice where she helps businesses, nonprofits and individuals figure out their 'story', hone and develop it, and write and share it for greatest impact. She is the Chief Inspiration Officer of KindWorks, an award-winning nonprofit organization that promotes volunteerism, and that has set up over 60 homes for refugees in the DC area. Salma is an immigrant to the U.S. from Pakistan; her own personal story, "Pakistan on the Potomac", is published in the Washingtonian.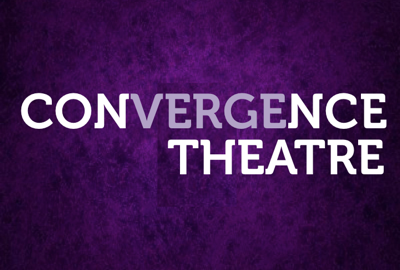 A New Nation is the latest performance piece generated through Convergence Theatre's Guerrilla Theatre Works model, a synthesis of performance art, poetry, interviews and physical theatre. New Nation probes responses to the immigration crisis in the US and current perceptions of the stranger, amplifying diverse voices to challenge fear and strengthen our sense of home through glimpses of the narratives that move beyond the boundaries of the borders and theatre itself.
Karagoz is the traditional shadow puppet theatre of Anatolia. The play is named after its main characters, Karagoz and Hacivat. It is known as one of the oldest shadow performances in the world dating back to more than 500 years in Anatolia. Karagoz was inscribed on the UNESCO representative list of intangible cultures heritage of humanity in 2009. Ayhan Hulagu is among the few artists that are maintaining this unique tradition. He is the founder of United States Karagoz Theatre Company, based in the America, and has performed in many locations around the world and on Broadway.
Imam Magid is the Imam of All Dulles Area Muslim Society. He is the Chairman of Int. Interfaith Peace Corps. Imam Magid has a long history of commitment to public service, training religious leaders on the issues of violence against women, leading initiatives to protect religious minorities in Muslim majority countries, and working with other faith leaders to promote peace and tolerance all over the world.
Interfaith Voices - The Rev. Canon Leonard L. Hamlin, Sr. began his tenure at the Washington National Cathedral in April 2018. In his role as Canon Missioner, Dr. Hamlin oversees the Cathedral's outreach and social justice initiatives, including gun violence prevention and racial justice and reconciliation. In particular, Dr. Hamlin assists in the building of partnerships and the equipping of the Cathedral community and the congregation to serve as the hands and feet of Christ in the world.
From 1996 to 2018, Dr. Sovan Tun served as president of the Cambodian Buddhist Society, which is responsible for the Cambodian Buddhist Temple in Silver Spring. He is a founding member and Senior Vice President of the International Buddhist Association of America; a member since 1998 of the Maryland Governor's Commission on Asia Pacific American Affairs; and a member of the Interfaith Council of Metropolitan Washington. He serves the community also through volunteer hospital and hospice work.
Rabbi Susan Shankman is a Rabbi at Washington Hebrew Congregation. Along with officiation at services, life cycle events and pastoral care and counseling, Rabbi Shankman coordinates the Confirmation program, and focuses on programming for families with young children, Sisterhood and women's issues, social action, and outreach to interfaith families. Rabbi Shankman was ordained by the Hebrew Union College-Jewish Institute of Religion in 2001.
Melaney Dickson Tagg is the Relief Society President of the Ashburn Virginia Stake of The Church of Jesus Christ of Latter-day Saints. She holds a degree in civil engineering from Brigham Young University. A native Virginian, she and her husband reside in Leesburg, Virginia. They have 7 children and 10 grandchildren.
Speakers/Masters of Ceremony
Founder - Wendy is the co-founder of NOVA Friends of Refugees, a grassroots coalition dedicated to helping and welcoming refugees. Wendy immigrated to the US from China when she was twelve years old. Her humble, blue-collar immigrant background helped her appreciate the courage and tenacity of the refugees and see the talents they could bring to America. Wendy leads the 600-member coalition in helping refugees through advocacy, social services, and community engagement.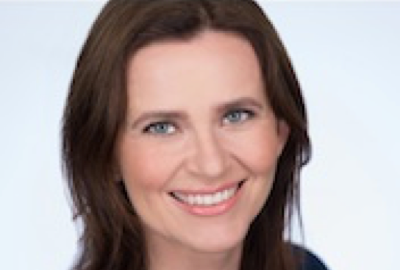 Founder - Vanda immigrated to Germany in 1991 as a civil war refugee from Croatia, former Yugoslavia. In Germany, Vanda served as the spokesperson for immigrant and refugee policy for a major German political party in Frankfurt/ Main and the Executive Director for the Organization Against Sexual and Racist Exploitation. Currently, Vanda leads strategic partnership effort to influence public perception of refugees in positive/celebratory way, identify innovative partnership solutions for humanitarian responses, and develop long-term strategy to increase public understanding of the global displacement crisis.
Event MC - Allison Duvall is the Manager for Church Relations & Engagement for Episcopal Migration Ministries (EMM), the refugee resettlement and welcome ministry of The Episcopal Church. In this role, she speaks, teaches, and organizes to support refugee and immigrant welcome, and works on EMM's new Partners in Welcome program, an online learning community and ministry network dedicated to welcoming newcomers, empowering advocates, and supporting local ministries.
Event MC - The daughter of a Vietnamese immigrant, Kim O'Connell is a writer based in Arlington, Virginia, whose work has appeared in numerous national and regional publications. She writes often about the Vietnamese refugee experience in America and is working on a book called The Saving Grace of Spring Rolls: A Story of Food, Place, and Family.
Event MC - Jim helps leaders grow companies. He specializes in the issues that fast growth firms experience in their business models, talent, processes and systems as they reach higher levels of performance. Jim and his team at the Inc. CEO Project work with over 100 CEOs of high growth companies to identify and obliterate the things that stand between them and continued organizational success.
Event MC - Laurie Lewis is an attorney and rehabilitation psychologist. She is a full-time faculty member at the Columbus School of Law, Catholic University of America in Washington, D.C. Family Law is her area of expertise. She offers pro bono family mediation services and settlement agreements. This year Laurie will do pro bono advocacy work with immigrants through the Immigrant & Refugee Advocacy Clinic housed in CUA Law.
Event MC - Marc cultivates community, organizes crowds and inspires individuals to have their best day through his public speaking. An enthusiastic emcee, Marc has served as announcer for hundreds of live events, military ceremonies, professional and collegiate sports, and special programs. For over two decades, he has coordinated marketing, sponsorship and communications for some of the largest events in the nation's capital. www.eventvoice.org
Event MC - Attorney Sandra Vu Le is the Chief Confidence Builder of Your Cultural Edge, a business helping minorities and foreign born graduate students and professionals leverage their cultural strengths and effectively communicate in the U.S. culture for personal and professional success.
Festival goers will have ample exposure to technology throughout the festival – with several digital tech opportunities including live chats with refugees in Iraq and Greece via Shared_Studios' immersive video technology, short Virtual Reality films that give viewers intimate perspectives on refugee experiences, and so much more.
Shared Studios
Shared Studios' immersive video experience will engage attendees with refugees living in overseas camps and host countries. Shared Studio portals are gold spaces equipped with immersive audiovisual technology. When you enter a Portal, you come face-to-face with someone in a distant Portal live and full-body, as if in the same room!
Tech for Humanity Tent
Technology will bring the world to Festival visitors. The Technology for Humanity Tent, made possible by Accenture, will bring to festival goers technology innovations that address refugee needs and build community connections. The tent will feature demos of cutting-edge capabilities as well as several VR experiences.
Virtual Reality Experiences
AROUND THE WASHINGTON NATIONAL CATHEDRAL
One Journey Festival isn't your average festival – we're expecting 5,000+ attendees throughout the day. Our festival is packed with exciting and inspiring programs throughout the grounds of the National Cathedral.
Driving Directions
From downtown Washington
Take Massachusetts Avenue north to Wisconsin Avenue. Turn right onto Wisconsin Avenue. The Cathedral is on your immediate right.
From Maryland and the north
Take I-95 to I-495 west, the Capital Beltway. Exit south on Wisconsin Avenue. The Cathedral is approximately 6 1/2 miles on your left.
From Virginia and the south
Take I-495 over the American Legion Bridge into Maryland and take the Wisconsin Avenue/Bethesda exit. The Cathedral is approximately 6 1/2 miles on your left.
From Virginia and the south (alternative)
Take the Memorial Bridge to the Lincoln Memorial, bearing right onto Rock Creek Parkway. (Note: Rock Creek Parkway is one way south bound during morning rush hour; buses cannot exit on Massachusetts Avenue.) Follow Rock Creek Parkway to Massachusetts Avenue, turning left onto Massachusetts Avenue. Then follow directions "From downtown" as above.
Bird Ride
Take a Bird ride to make your trip to the festival a convenient one. If it's your first time using a promo code with Bird, we're sending some credits your way. Enjoy. *Valid for up to $5 in credits if this is your first time using a promo code.
Code: 1JOURNEY
Washington Metro
From Tenleytown
Take the Metro Red Line to the Tenleytown/AU station. Exit on the west side of Wisconsin Avenue. Take any 30 series bus (30N, 30S, 31, or 33) going south on Wisconsin Avenue. Ride approximately 1 1/2 miles until you reach Woodley Road; the Cathedral is on your left. (This is a downhill walk, if you prefer to walk.)
From Dupont Circle
Take the N2, N3, N4, or N6 bus until you reach the corner of Massachusetts and Wisconsin Avenues. Walk north on Wisconsin 1/2 block to the Cathedral.
From Woodley Park
Take a 96 or X3 bus toward Tenleytown. Get off the bus at the corner of Woodley Road and Wisconsin Avenue. The Cathedral is on the east side of Wisconsin Avenue.

For more information on Metro, visit the Washington Metropolitan Area Transit Authority website at www.wmata.com.
Parking
We recommend parking in the Cathedral's underground parking garage. There is very limited parking on the Cathedral grounds and in the surrounding neighborhood.
Underground Parking Garage
Entrance: Enter via Wisconsin Avenue, at the traffic signal just south of Woodley Road.

Garage Hours: 6 am to 11 pm.

Maximum height: 7' 6" including rooftop accessories. No trailers or RVs are permitted in the garage or on the grounds.

Handicap parking spaces: located on each level of the garage near the elevators.

Security office: located on level B1 of the garage next to the Wisconsin Avenue entrance.

Pay station machines: located by the elevator lobbies on the B1 and B2 levels and also at the Wisconsin Avenue exit. Pay machines accept cash or credit cards. Credit cards or small denomination bills preferred. Change is issued in coins.
Parking Garage Rates
During selected Cathedral events, special rates may apply.
Saturday: 6 am – 11 pm $9 flat rate
One Journey invites you to join us to shift the narrative about refugees living in the US and around the world. There are so many ways you can take part:
SIGN UP AND STAY CONNECTED
Sign up to our newsletter and stay connected to receive event announcements, festival updates and blog posts
Volunteer opportunities
This movement is entirely driven by grassroots volunteers and relies on the hard work of community members, like you all
Make a Donation
We need your support for our second annual One Journey Festival celebration onJune 29, 2019 at the Washington National Cathedral.